food while on vacation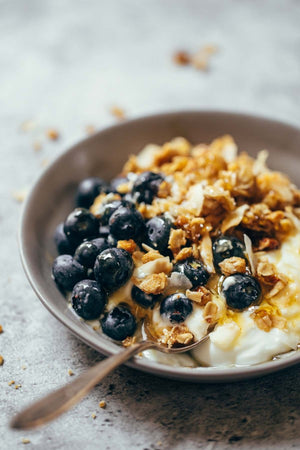 Find it hard to eat healthy while on vacation? 
One of the easiest snacks to eat while on vacation is granola with yogurt. We know it can be hard to eat healthy if your staying in a hotel room but fear not most hotel rooms now have a mini frig. Another example is to do an Airbnb and go to a local market instead of eating out.
Via Pinch of yum
Breakfast Foods
Baking & Spices
1 tsp Cinnamon
1 cup Flour
1 tsp Salt
1/4 cup Sugar
Oils & Vinegars
Nuts & Seeds
1 cup Almonds
1 cup Coconut flakes, unsweetened
1 cup Pecans
Gluten Free diet? try this while on vacation
A Simple Toasted Muesli
2 CUPS ROLLED OATS OR FLAKED QUINOA
1 CUP SHREDDED COCONUT
2 TBSP COCONUT OIL
2 TBSP RICE MALT SYRUP (OR TO TASTE)
1 CUP PUFFED RICE
3/4 CUP PUFFED QUINOA
1/4 CUP SUNFLOWER SEEDS
1/4 CUP PEPITAS (PUMPKIN SEEDS)
1/2 CUP FLAKED ALMONDS
1/2 CUP WHOLE ALMONDS CHOPPED
1/2 CUP MIXED NUTS CHOPPED (HAZELNUTS, MACADAMIA, PISTACHIO)